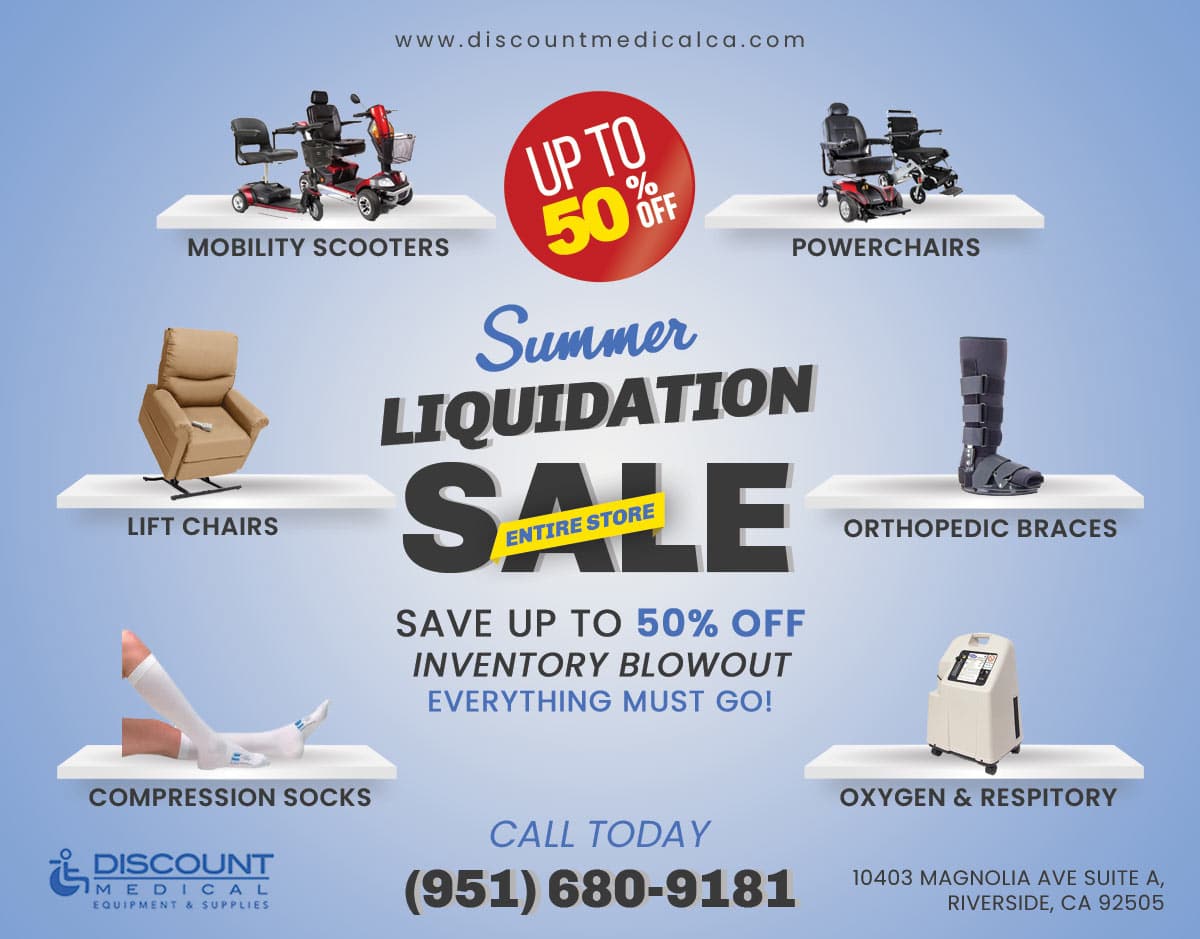 We are your one-stop-shop for medical mobility, equipment, and supplies. Our knowledgeable staff can assist you with finding the perfect item for yourself. Here at Discount Medical Mobility, Equipment, and Supplies, we believe in giving you the most high quality durable medical equipment without you having to break the bank. We strive to be competitively priced with both online sellers and other brick and mortar stores. We offer a full manufacturer warranty on all of our equipment.
We also offer medical equipment rentals, such as Lift Chair Rentals, Hospital Bed Rentals, Wheelchair Rentals, Patient Lift Rentals, Scooter Rentals, & Oxygen Rentals in the Inland Empire and Southern California. Our showroom & store in Riverside are always stocked up & ready for our customers. Visit us to check out our large inventory of medical supplies.
What Customers Are Saying About Discount Medical…
What a fantastic business! My wife recently broke her foot and we needed to get a Walker. Called CVS and Walgreens and their prices were no joke double and triple priced what you could get them for here. When I when I went inside I was greeted by a nice gentleman in this clearly family run business. I was looking around and saw a very nicely stalked showroom with lots of mobility scooters at prices that are roughly half of what I've seen some of my customers previously spent..

This is a Family owned store that treat their customers like back in the day. They always have been there for me!, whenever I've had a crisis! So the best thing anyone can do for your favorite place give them a review on YELP!

I went here to fix my wheelchair the other day and I have to say this is one of the best most professional wheelchair business I've been too. They are very friendly all employees were very alert and open to helping anyway they possibly can as well the owner which is great to see. They have all medical supplies possible. When my wheelchair was fixed they even carried it outside to my car for me and loaded it up. I'm very grateful to have found this place and will be suggesting them and returning for my own needs as well. Thank you

Wow! This was one of the best experiences I have ever had with a company. Lana was absolutely amazing in helping us find what we needed and really being patient when we were getting our financials together. We knew we had to go to urgent care after and she even found us the three nearest ones with addresses and printed out what we needed to acquire a prescription for a wheelchair. The entire staff really went over and beyond when we got our Powered Chair. They even put my pops thru a little crash course in the parking lot to really be able to know how to use and work his chair. Hands down will be going back for all of our medical supply needs. I couldn't recommend going here more!
Thanks Lana and the rest of the staff! Ya'll are awesome!