At Discount Medical – Mobility Equipment & Supplies, we believe in providing value at every opportunity. That's why we're thrilled to introduce our fantastic "Bundle & Save Specials"! Discover tremendous savings when you purchase in bundles from our wide range of medical supplies and mobility equipment.
Enjoy up to 10% OFF on Jobst Stockings 
Step into comfort and style with Jobst Stockings!
When you purchase two or more, you'll receive up to 10% off your total.
So why not double up on the benefits and savings?
Unlock up to 20% OFF on Incontinence Diapers
Experience the ultimate in protection and discretion with our quality incontinence diapers.
Save up to 20% when you purchase by the case.
Now, that's a deal that speaks volumes about our commitment to your comfort and convenience.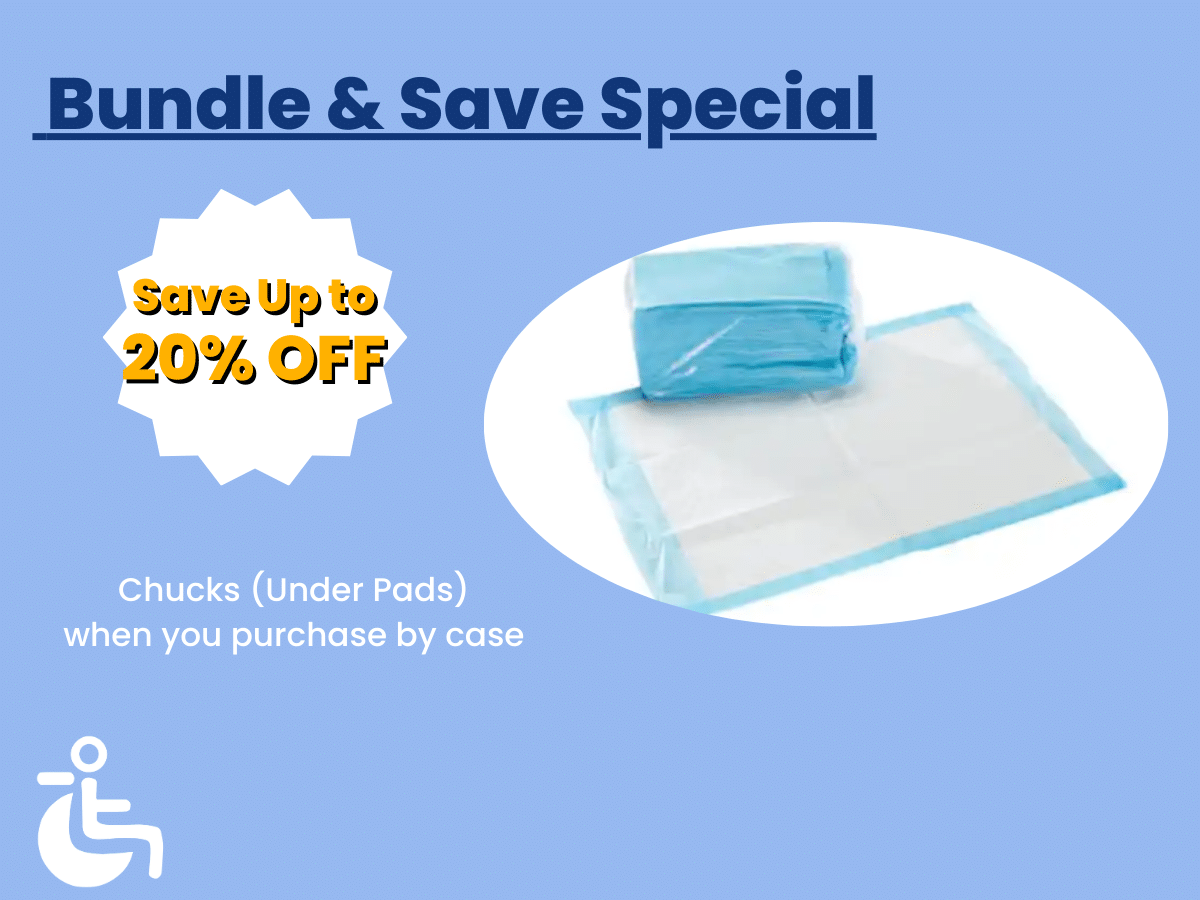 Get up to 20% OFF on Chucks (Under Pads)
Enhance your comfort and security with our high-quality chucks.
When you purchase by the case, you'll enjoy up to 20% off.
It's our way of ensuring you get the quality you need at prices you'll love.
Ride Away with up to 20% OFF Scooter Accessories
Rev up the value with our range of scooter accessories!
Purchase any scooter and unlock up to 20% off scooter accessories.
Enhance your ride and save big at the same time.
$500 Savings –  Bundle & Save Special
At Discount Medical Mobility, we believe that mobility should be accessible and affordable for everyone. That's why we're offering an unbeatable deal that you simply can't resist.
When you purchase any of our top-quality mobility scooters along with a car lift, we're giving you an additional $500 off! Yes, you read that right! It's not just about the savings, but also about providing you with the tools to navigate your world with ease and independence.
Our mobility scooters are designed with your comfort and convenience in mind, offering smooth rides and easy maneuverability. Paired with our reliable car lifts, transporting your scooter from one place to another has never been easier!
We invite you to take advantage of these exclusive Bundle & Save Specials today! Stop by our Riverside showroom on Magnolia Ave to explore these amazing deals and find the right products to suit your needs. Our friendly team of experts is eager to assist you in making the most out of these special offers.
Experience the Discount Medical difference today, where your wellness is our top priority and your savings are our shared joy. Hurry in and start bundling your way to incredible savings today! 🌟